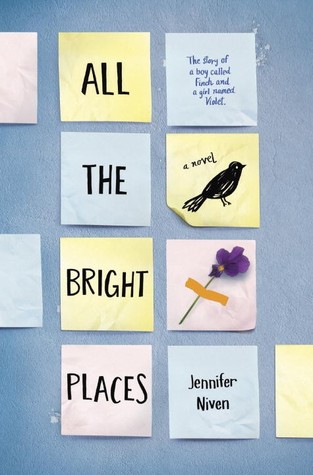 all the bright places
jennifer niven
ya/contemporary
knopf publishing
published 2015
Theodore Finch is fascinated by death, and he constantly thinks of ways he might kill himself. But each time, something good, no matter how small, stops him. Violet Markey lives for the future, counting the days until graduation, when she can escape her Indiana town and her aching grief in the wake of her sister's recent death.
When Finch and Violet meet on the ledge of the bell tower at school, it's unclear who saves whom. And when they pair up on a project to discover the "natural wonders" of their state, both Finch and Violet make more important discoveries: It's only with Violet that Finch can be himself - a weird, funny, live-out-loud guy who's not such a freak after all. And it's only with Finch that Violet can forget to count away the days and start living them. But as Violet's world grows, Finch's begins to shrink.
There is not a lot I can say about this YA debut from Jennifer Niven. It is a depressingly good representation of bipolar disorder and the feelings of being in love with someone who suffers from it. Grief is a huge player in this book and while there are bright spots the book barrels towards the dark without apology. I didn't cry, much because mostly I was frozen. Tense and waiting to see what became of Violet and Finch.
One thing that really stuck with me in is how everyone in Finch's life (besides Violet) dismiss his behavior as 'that's just Finch'. Part of this is a testament to how the few friends he has are kept at arm's length. They don't know what's going on in his home life, they're not close with him. Even as they disparage everyone around them in the end, they are not much different from the herd. His sisters are both caretakers and dependent on him and it is in her love for her brother that Kate shoulders a lot of the responsibility. Had she not fielded all the questions from school maybe things would be different? But then you get to his parents.....his mother who is basically useless. One of those people who only reacts when they feel like events are happening to them. And his father, who plainly is just an asshole.
It is truly no wonder that Finch's mental health progresses as it does and it's heartbreaking to watch.