It's been quite some time since I've written a post that wasn't a book review!
I just finished reading three books that I loved (
Stolen Prey, Delusion in Death
&
Mad River
), but knew I was going to love and one book that I hated, but thought I would enjoy (
I, Michael Bennett
). Even though that's a 75% positive rating I still feel kind of, I don't know...bummed?
John Sandford's two books were so good, especially
Stolen Prey
, but it's been awhile since I've read something truly astounding. Something that made me lose my mind, or my heart. The last one was
Luther
about three months ago. That doesn't sound that long ago, but since I read
Luther
I've read 53 books. I started going through book recommendations on GoodReads, Shelfari & Amazon and it got me thinking about the books I have loved and how I wish I could erase my memory of them so I could read them again without any expectations.
You know what I'm talking about. There are those books you read and recommend to friends, half jealous because they get to read them for the first time and all you can do is read them again....and even though I have read some of these multiple times and loved them even the second, third, fourth or even fifth time, I still wish I could get that first time read back. If I could erase my memory of these books and start again here's my list of books I'd do that for.
It seems weird to expound on how much I loved this book. It's not a warm and fuzzy feel good kind of story. Chevy Steven's
Still Missing
is about a woman who is kidnapped and held captive for more than a year, raped and abused repeatedly. But it was so damn brilliant. It kept me on the edge of my seat - literally. I was heartbroken, elated at times, terrified and blown away. I wasn't expecting what happened. At all. It was nothing short of brilliant.
I read
What We Keep
by Elizabeth Berg too many years ago to count, but the lyrical prose has stayed with me all these years. Page 30, concerning dreams of fairies became the bar to which I set stories like these. I wanted magic where there wasn't necessarily going to be magic. Berg wove beautiful words into this story that haunted me for over a decade.
In the beginning I got Sarah Addison Allen's book
The Girl Who Chased the Moon
for free from a Barnes & Noble special. I had it for months before I finally read it and when I did I immediately went out to search for the rest of Allen's books. They were all just so beautiful, but TGWCM was an unexpected delight. Like
Still Missing
I just didn't know what I was getting into so it made everything all the sweeter. Full of magic, first love, finding love again, family, friends and mystery. It had everything and more.
Seriously, did you think I wouldn't include this one?? Now I had avoided the
Twilight
craze. In fact, I scoffed at it. So many nutsos going insane over this vampire book immediately turned me off, but one of those nutsos was my friend and she told me I must read it. She guaranteed I would love it and if I didn't get the books she was going to drop them off on my doorstep. So I waited a bit longer until all four books came out and went and got them from the library. With a doubting heart I started
Twilight
and at page 98 I had to call my husband so I could tell him 'I LOVE THIS BOOK.' and I became one of those nutsos. I didn't even care. There was something about this story that tugged at me. The writing was soooo not perfect, the plot kind of ludicrous and it was far from having a socially acceptable female 'heroine', but I loved it. Every bit of it. Maybe it was the first love aspect, or the setting, or the silly differences Meyer made in her vampires. Whatever it was I loved it and while I enjoyed all four books (6 if you count Midnight Sun and The Short Second Life of Bree Tanner) the first one was my favorite. The first meeting, the first kiss, the first time he saves her life - let's face it, we can roar all we want, but sometimes we just want that knight in sparkly armor.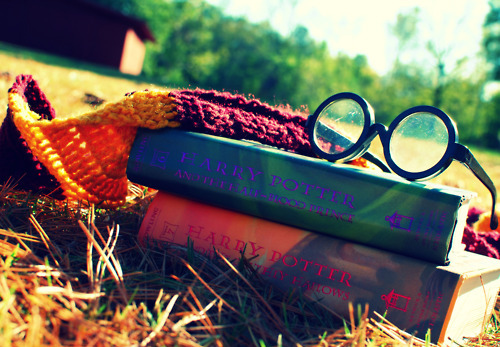 This one's rather obvious, although it's not a single book, but an entire series. Of course, I'm talking about J. K. Rowling's Harry Potter series. Each and every book I loved. It doesn't matter how many times I read them, they never get old and I still feel them pull the same emotions out of me as they did the first time. It's one of the only books I've loved the movies almost as much as I loved the books. I love the world that Rowling created, the language and the people. I love that she created a series that you can think about, talk about with others and it never gets old. There were times when I wanted to throttle Harry, but that was okay because even though the books carried his name there were so many characters that brought the stories together and Harry wouldn't have been Harry had it not been for Hermione, Ron, Snape, Dumbledore, Neville, and so many others.
Now that I've told you the books I wish I could go back and read for the first time, what are yours?? I'm always looking for new books to read!